Introduction and aims of the document
This document follows the findings of the "Comparative analysis of financial schema" and it is a part of the key output of BOOSTEE-CE project which is the "Development of EE financing roadmaps for participating cities/municipalities".
This key output involves two steps:
Creating the Transnational methodological framework for a roadmap development
Elaboration of 7 EE financing roadmaps for public infrastructures in CE cities/municipalities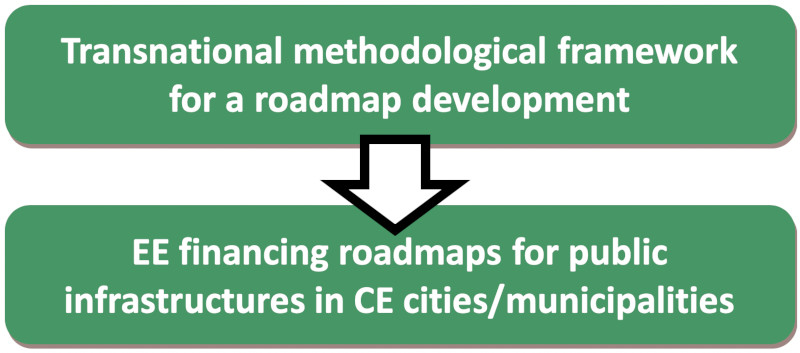 1.1 Transnational methodological framework for a roadmap development
Transnational methodological framework for a roadmap development is a common transnational template of energy efficiency financing roadmaps with guidelines for their specific contents and structure. Key target groups are identified with their needs and expectations on which a further development is based.
The aim of the financial roadmap is to help public authorities to deal with many different financing grants in the EE domain. The methodological framework builds upon the practical knowledge of public institutions (project partners and potential stakeholders) and provides an overview of financing models used to finance EE upgrades in the public sector with the specific focus on:
Financial models to minimize the load on public budgets
Recommendations for decision-makers on identifying and implementing a suitable financing model
Risks and measures in case of financial investments
Case studies.
The methodological framework for the energy efficiency financing roadmap development builds upon two mutually complementary approaches
The review of national and transnational best practices and financing models
The successful partners experience and platform performances
This will encourage, facilitate and support - as part of broader low-carbon and energy efficiency strategies - coordination and realization of useful energy efficiency investments in Central Europe countries. The documents also highlights experience of BOOSTEE-CE partners in small-scale investment of public funds and how they can bring great improvements in terms of energy savings and buildings performance.
The financial roadmap should thus play an important role in improving energy efficiency in public buildings and overcome the barriers of constrain financial initiatives as well as facilitate and improve connectivity between public authorities, financing models and energy efficient tools (e.g. BOOSTEE-CE OnePlace platform) in order to facilitate and trigger energy efficiency investments.
1.2
Energy efficiency financing roadmaps for public infrastructures
Upon content of this document each partner region is supposed to elaborate its own Energy efficiency roadmap showing a way how to finance energy efficiency actions in their respective regions within a desirable timeframe, identifying subsequent steps and appropriate financial solutions.
Energy efficiency financing roadmap should be based on the approach of continual savings reinvestments in further EE measures. The development of each individual EE financing roadmap on a specific territory (town / municipality / region) should be based on a close cooperation with relevant local authorities and other stakeholders and should be also adopted by these authorities for daily procedures and activities.
Thus, these concrete financial roadmaps, produced in synergy with partners and target groups, are supposed to be adopted by local or regional authorities with large probability for future implementation also in other neighbourhood municipalities / regions with the main purpose to facilitate and trigger new investments in energy efficiency.
Suggested indicative structure of Energy efficiency financial roadmap is included in the Chapter 4 of this document.